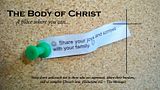 For some time now, I have neglected my
other
blog,
The Body of Christ
. I started that blog to pull together the needs of different friends in the
bloggy world
so that we could all operate as
the body of Christ
by interceding on others' behalf.
I would like to direct you over there today to pray for me, and hopefully, others. Would you
email me
the things that concern your life right now? Or requests on behalf of others? I will add them to today's list so that others can pray as well.
Living in His JOY, HOPE, and PEACE...
***Don't forget to
pray
for someone today!