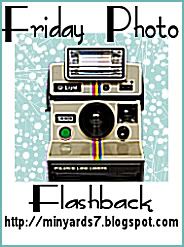 Welcome to Friday Photo Flashback, as hosted by Alicia at "
More Than Words
!"
This picture was taken in 1997 on my first ever trip to Romania. What in the world was I wearing? Overalls??? Seriously. Glad to be rid of the perm, too.
I've been there something like 9 or 10 times since then. D.T. and I had been married for 1 year, and this was the first time I met my in-laws. LOVE them! Notice, as I told you in my
previous post
, the men aren't smiling! ;-) Er, pardon me. They are
smiling on the inside
. The ladies are smiling, though! :-) Must be a guy thing!
We also took the frozen top layer of our wedding cake to share with D.T.'s family on that trip. Don't have a clue how we got
that
through security!
Living in His JOY, HOPE, and PEACE...
***Don't forget to
pray
for someone today!