I'll have more to post later, but I just wanted to say
I'm still here
. Seems like about once a week, I find myself dropping off the face of the earth for a day or two.
***
Yesterday was a bit hectic as my little
Ben
got sick and had to go to the puppy hospital overnight. :-(
Hopefully, he'll be able to come home tonight, but we'll see.
***
If you wondered about the little baked goody in my last post... yes, that was bread. Homemade bread. Very hot and yummy homemade bread. Who wants to come visit? :-)
***
I'm going to be sharing some of D.T.'s
rreucipes
ricepes
phoeey, I can't even type today... r.e.c.i.p.e.s. every once in a while.
Sshhhh.... I might let you in on some of his secrets! He, he, he.
I even came up with this little button to go along. Hey, you can grab it if you want!!!
So excited that I actually made a button! :-)
So, come back soon and I will post a recipe so you can share in all this yummy goodness! Oh, but no diets allowed! ;-)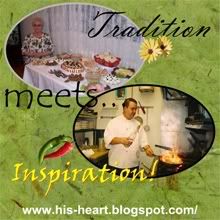 Living in His
JOY, HOPE, and PEACE...
***Don't forget to
pray
for someone today!