Welcome to Friday Photo Flashback,

as hosted by Alicia @ More Than Words!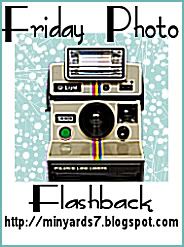 Me and my daddy. Deductive reasoning leads me to believe this was 1977 since I was born in April, this looks like summer, and I am definitely older than a few months. Probably more like a year and a few months. :0)

Sun bonnets were a staple of my childhood. Is it any wonder with this ghost~white skin of mine? Lol! :o)
Thanks to my big sister for sending me a bunch of digital pics from long ago! I'm all stocked up for a bunch of weeks, now!!! :o)
Living in His JOY, HOPE, and PEACE...