Welcome to Friday Photo Flashback, as hosted by Alicia at
More Than Words
.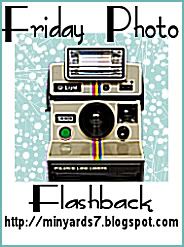 This picture was taken "back in the day" (
read: I can't remember the year
) with my sister, Jennifer. We were on vacation at the Polynesian in Disney World. Last year,
we went back
and had a totally AWESOME time!!! I SO want to go back right now!
Here is us today (well, last year...) as close to the same place as the previous picture as possible.
I do find it particularly amusing that my sister is holding her hand in the exact same position on both pictures!
I spent a lot of time with my older sister as I was growing up. When I was really young, I couldn't say her name (had lots of trouble w/ R's), and I called her Too-Too. I think it had something to do with her playing trains with me. Ya know, "Toot, Toot!" Hahaha! :-)
Living in His JOY, HOPE, and PEACE...
***Don't forget to
pray
for someone today!