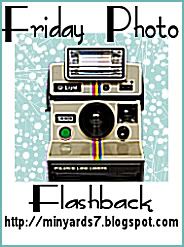 Welcome back to Friday Photo Flashback,
hosted by Alicia at
More Than Words
!
1997, I think. This was my first trip to Romania to visit (and meet) my in-laws. D.T. and I had only been married for 1 year. We actually took the frozen (thawed by the time we got there) top layer of our wedding cake with us to share with his family on our anniversary.
I especially treasure this picture with D.T.'s dad, and I LOVE the way he was looking at me. He had such a neat sense of humor, and we always had such a good time laughing together. He went to be with Lord in 2000, and we miss him very much.
Regarding the picture, though, what was up with the hair and the clothes? Oh, and the glasses. Yikes [cringing]. That's all I've got to say! ;-)
Living in His JOY, HOPE, and PEACE...
***Don't forget to
pray
for someone today!