***UPDATE***
My sister has informed me that, if you look closely, you can see that what is on my left foot is a sock. What is on my right foot is a knee high stocking. Apparently, as can be seen by the look on my face, I was most excited to show everyone what I had put on... or almost on! Ha! At least I matched how far on my other sock was! :o)

Welcome to Friday Photo Flashback,
as hosted by Alicia @ More Than Words!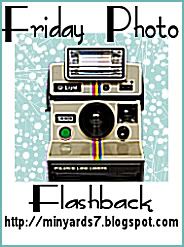 I think I am somewhere in the range of
going on 2
in this picture. What in the world am I doing with my feet??? LOL! The socks are obviously too big. Maybe I am trying to shake them off? :o)
Living in His JOY, HOPE, and PEACE...