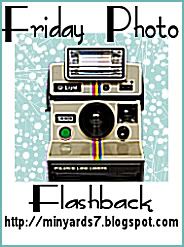 So, today, I am participating in Friday Photo Flashback, as hosted by Alicia at
More Than Words
, and once again my photo is not exactly pre-digital, although it does take me back! Guess I just don't like to follow the rules. You'll forgive me when you see my cute picture! ;-) Plus, I've been too busy to dig out old photos and scan them. Glad we
do
live in the digital age!
This was the first time we met our little (now big) Goldie Marie! Even now, she still loves to give *kisses*! I love her eyes in this picture!!!
*****
Today, I
choose joy
in knowing that even though *my strength* is gone, *His strength* is perfect and He will help me to finish this class. Counting down, and pushing on...
Living in His JOY, HOPE, and PEACE...
***Don't forget to
pray
for someone today!