Welcome to Friday Photo Flashback,
as hosted by Alicia at
More Than Words
!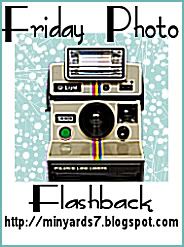 Yes, I know I wasn't even born yet in 1970, but I wanted to do something a little different today.
I know, I know. Breakin' the rules again! Just call me the
rule-breaker
!
;-)
Last night, I was baking a cake for work, and, of course I had to take a picture. Right? Right! I mean, I
know
y'all take pictures of your food, too. Right? Right!
Yum!
Anywho.
I also happened to have a few dishes out that I cleaned out from our cupboard the other day. Dishes are my passion. I have
way
too many of them, and I needed to make room for... more... what? Why,
dishes
, of course!
So... food + dishes = what else? Pictures! Hehehe! All of my passions! Food + dishes + pictures!!!
Now, I
know
that somebody, somewhere out there had these dishes growing up, too! Come on. Admit it! :-)
We always called them our
white dishes with the little green flowers.
I checked them out online, and they are called:
Spring Blossom Green
by Corelle. Very popular back in the 1970's!
I'm still going to keep some for everyday, but I just don't have room for
all
of them anymore. So, I'm passing these few on to my sister to add to her collection. My mom gave both of us some a few years back when she got new ones. We did have
lots
of them, after all. My mom had a set. My grandma had a set. Of course, now, her new ones keep breaking, and these old ones? They
never
break. NEVER!
Today, I
choose joy
in my family and memories. I love thinking back to the people and times (past and present) that these dishes remind me of.
Living in His JOY, HOPE, and PEACE...
***Don't forget to
pray
for someone today!