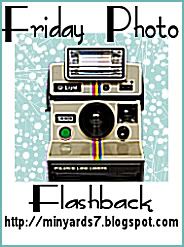 Welcome back to Friday Photo Flashback,
hosted by Alicia at
More Than Words
!
I don't know if you recognize the man in the picture below or not. If you do, you would probably describe your feelings toward him as either love or hate. There was not really
much
anything in between with him. Things were black or white. Never
gray
. Right or wrong. Never
whatever works for you
. I think we could all agree, though, that he made a huge impact in this nation and even the world. I don't have to
wonder
what he would have thought of all the events happening in America today. I
know
what he would have thought, and I
know
that he would have been
doing
something about it instead of most of us who call ourselves Christians, but shamefully just stand by watching it all unfold.
Ok, off my soap box
for the moment
.
There were definitely digital cameras back in 2004, but this was taken by someone else, and all I have is an actual print. So, this is a
picture
I took of
the picture
. :-)
There is a story worth telling of my first knowledge of this man. When I was little, like 2 or 3 years old, my mom used to turn to
The 0ld Time G0spel H0ur
on tv while we were getting ready for church. One Sunday morning, while she was putting on her makeup in the bathroom, I came barreling in, all excited, yelling:
"Mommy, mommy, Jesus F@lwell is on tv!"
Now, please understand, I am not making a comparison here. At the time, these childlike eyes only knew that his first name started with a
"
J
"
, and that he talked about
Jesus
all the time. When I was
all grown up
I had the opportunity to actually share that story with Dr. F@lwell, and all he could do was smile and say
"That is SO bad."
I remember the day he died a little more than two years ago, and I still miss him today.
Praise God for a man who
knew
Jesus
,
loved
Jesus
,
shared
Jesus
, and was never willing to
compromise
Jesus
.
After all, it was... is... and always will be all about
Jesus!
Living in His JOY, HOPE, and PEACE...
***Don't forget to
pray
for someone today!