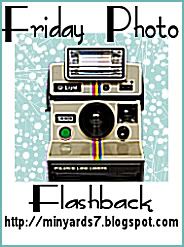 Welcome to my first Friday Photo Flashback, as hosted by Alicia at
More Than Words
!
I don't believe I've ever showed y'all any of our wedding pictures. I scanned a few a bunch of months back when we were working on the profile album for our adoption.
Wanna see?
Boy, do things change over the years.
Styles change and perms grow out.
A few more wrinkles, a little less hair.
So, here you go. The 1996 version of us: