to the new button on the left side of my blog.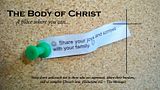 After I began
my new blog
as a way of letting my readers know of others in need of prayer, a very sweet blog friend listened to what could have only been the prompting of the Holy Spirit and created this button for me.
THIS, my friends is what the real body of Christ is all about. Lifting each other up and loving others as Christ first loved us.
Thank you,
friend
. You know who you are. May God bless you for creating this tool for others to hear of those in need.
Now, everyone... please go,
Grab My Button
, &
PRAY!
Living in His JOY, HOPE, and PEACE...